Quads and SSV's:
Can-Am All-Terrain Vehicles
Quads and SSV's supplied by Can Am. Discover the BRP Can-Am all-terrain vehicle line-up
BRP's new Can-Am ATV line-up is led by the next-generation Outlander MAX family, all-new Outlander 1000 X mr ATV, an added Dynamic Power Steering (DPS) package and other key models and upgrades for the new year including completely new Outlander 500 and 650 ATV line-ups.
http://www.brp.com/en-au/vehicles/can-am-all-terrain-vehicles.
Outboard Engines
BRP Evinrude E-TEC Outboard Engines
Discover BRP's full line of Evinrude E-TEC outboard engines that range from 15 to 300 hp.
Why is Evinrude E-TEC technology so good?
With blinding power and low emissions, BRP's 2-stroke direct injected Evinrude E-TEC outboard engines provide the best of both worlds. Evinrude E-TEC engines:
produce 80% lower CO emissions than an idling four-stroke engine,
use 50% less oil than a conventional direct-injection outboard engine,
are quieter to operate and require little to no maintenance.
BRP is the only marine manufacturer to win the EPA's Clean Air Technology Excellence Award http://www.brp.com/en-au/engines/evinrude-outboard-enginesfor its Evinrude E-TEC outboard engines.
http://www.brp.com/en-au/engines/evinrude-outboards-engines
Bows and accessories: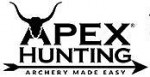 APEX HUNTING
Bows and accessories supplied by Apex Hunting. Apex hunting is an Archery Company located in Capalaba, Brisbane. The ae a very succesul expanding business and are the are the fastest growing Archery Company in Australia! The currently have the largest  online community for Archery enthusiasts.
Broad Heads: Northern
Broad heads supplied by Northern Broadheads. A one piece stainless steel blade has a large 28mm cutting diameter with  shave out of the pack razor sharp cutting edges on all sides of the blade.  The solid aluminum ferrule reduces weight while maintaining its strength complimenting the heavy blade. The two components are then fastened together with a stainless steel Alan key style screw making it easy to replace a blade or ferrule while in the field.
http://northernbroadheads.webs.com
Apparel and Accessories:
HUNTERS ELEMENT
Hunting clothing and apparel are supplied by Hunters Element. Hunters Element is designed in New Zealand's harshest conditions to create technically superior, performance driven hunting gear, so you can challenge yourself to walk further, climb higher and hunt longer.
They don't follow traditions, they innovate to give you gear that is more comfortable, dries faster, packs smaller and is very durable.
511 TACTICAL
5.11, Inc. creates superior products that enhance the safety, accuracy, speed and performance of law enforcement, military and firefighting professionals and sells these products under the registered trademarks, 5.11 Tactical®. 5.11 Tactical Series®, and other marks. Built on a foundation of durability, quality and value, 5.11, Inc. leads the industry in delivering functionally innovative gear, head to toe.
http://www.511tactical.com.au/
Optics:
SWAROVSKI OPTIK
Scopes and Binoculars supplied by Swarovski Optik.
"Constantly improving what is good"
This has been the SWAROVSKI OPTIK motto since day one. For us, this also means exceeding our customers' expectations and surprising them time and again – with the precision of our products, with our innovative technology and with our comprehensive service.
Spotlights and Driving Lights
Driving Lights for our vehicles, quads and SSV's are supplied by Lightforce Australia. Also supplied are our spot lights and rifle mounted lights. With more than 25 years experience, LIGHTFORCE is now a global leader in portable professional lighting systems as well as driving lights, rifle-scope optics and lighting accessories.
Unlike our competitors, we are undertaking pioneering work in the use of modern composite and eco-friendly materials.  This not only gives us a clear competitive advantage, but has also earned us a number of prestigious Australian and international design awards.  We continue to see growth in customer loyalty and confidence right around the world.
CAMERAS AND EQUIPMENT:
The Aussie Hunting Adventures Crew are equipped with the latest state of the art cameras and equipment. The team has an extensive range of digital SLR camera's, Full production cameras, go pro's, contour cameras and the latest in handheld image stabilising handy cams for in the field.