Australia has a rich and diverse range of hunting opportunities to offer. Whether it is deer hunting in the alpine regions of Victoria, duck hunting over decoys at your favorite wetland or Stubble Quail hunting with your gun dog, Pig hunting in the top end, the opportunities to see and hunt game in Australia are world class.
Aussie Hunting Adventures will consist of a hunting and outdoor adventure series to showcase the Australian bush and its surroundings; whilst promoting sustainable hunting practices, game management and environmental management. The show will cover every aspect and type of hunting available within Australia, firearms, Bow hunting, sports shooting, camping and the Australian bush.
It will promote the traditional outdoor activities that are a vital part of our national heritage including hunting, fishing and sports shooting. The program is designed to appeal to "traditional sportsmen and women" of all ages with a focus on activities that the entire family can enjoy in the great outdoors. The series will also cover hunting and firearm expos and shows and regular cooking segments.
The show will be dedicated to safety, education; ethical hunting and we will promote the spirit of conservation in all of our programs, emphasizing responsible hunting, fishing and habitat maintenance.
Host and Producer: Dave Fent
The Series is presented and produced by Dave Fent from A.H.A Productions Pty Ltd. Dave has been running a successful Production company for a number of years now, which specialises in Outdoor Adventure Film making focusing on fishing and hunting Television and DVD Production.
Dave is a seasoned hunter and fishermen and has been hunting and fishing his entire life and enjoys getting out in the mountains our out on the water as much as he can. From a young age Dave was a keen fisherman and enjoyed his younger years spending time fishing with the family where he excelled making many achievements within the fishing community across Australia, including a number of World, Australian and State Records. Dave's passion for hunting grew from there. He gained his firearms license at the age of 18 where he began to stalk Sambar deer in the Victorian High Country with his good mate Marty Van Der Lyn for many years.
Dave and Marty ventured into Hound hunting for Sambar Deer using bloodhounds and beagles. A few years later, Dave met up with Neal Blaker and their passions of hunting and fishing soon forged a great friendship. Dave, Neal and Marty ventured off in search of bigger adventures traveling right across the country following their passion of hunting/fishing and filming. Dave has fishing and hunted right across Australia and around the World including Africa, New Zealand, Bali and Hawaii.  Dave also enjoys frequenting the Top End of Australia, hunting and fishing, chasing Barramundi, Scrub Bulls, Buffalo, Pigs and Chital Deer to name a few. Dave has recently taken up bow hunting in the last couple of years and has found a new passion in closing the gap within only meters of his target. While Dave enjoys taking a good feed of venison for the table, more importantly he promotes the values and ethics of taking only what we need.
The A.H.A Crew: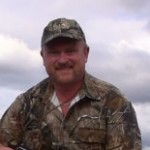 Neal Blaker:  Big Game Expert and Seasoned Hunter
Neal Blaker is a 43 year old father of three currently residing in his home state of Victoria. He started hunting rabbits at the tender age of 8 with an air rifle and then progressed to foxes with a .22 and ducks with an old Liege side by side 12 gauge by the age of 13.
His father introduced me to my lifelong obsession with hunting that began with regular trips to places like Balranald, Hay and Kerang.
He is passionate about hunting all types of game including deer, pigs, foxes, ducks, geese, rabbits, goats, etc. However hunting big game like water buffalo or scrub bulls on foot with big caliber rifles really adds an exciting dynamic to a hunt.
One of his favourite hunting destinations is the top end; the place has so much to offer. Such a large diversity of game and abundant fishing opportunities make this general area one of the world's great hunting destinations. I had the opportunity to take part in a 6 day self guided hunt with three mates deep into Arnhem Land back in 2008. The hunting was fantastic and so was the company, plenty of good times on that trip.
Hunting has provided some of the greatest experiences and adventures in my life and allowed me the privilege to get to know some great people and make lifelong friends.

Rob Dowse: Firearms, 4X4 Expert and Seasoned Hunter

His shooting career started around the Friday night boys catch up night, all of Rob's mates grew up with firearms and hunting. He was invited on his first hunting trip not long that when he turned 21.
Like every new shooter, Rob started on the smaller game such as rabbits and foxes first and soon had plenty of large properties to spotlight and walk. Regular visits to Frankston clay target club kept his eye sharp for running the game.
Rob took a big interest in reloading after buying my first center fire and then followed by long rang ballistics.
In 2007 Rob was offered a position to work for Mialls gun shop in Frankston. The experiences he gained from the gun shop helped me to talk the talk, and walk the walk. This formed his passion for Deer and Duck hunting. Rob was then invited to become a firearm safety course teacher, where he still teaches to this very day.
Rob's work placement at the gun shop finished in early 2011, and i went back to his other passion running my 4×4 business full time. Rob's collection has expended over the years and my hunting is a little more thought out, combine that with a well set up 4×4 and the sky is the limit. In the future I hope to hunt the top end and the various other states I'm yet to visit.
I hope you enjoy Aussie Hunting Adventures Series.

Tom Jones: Professional Hunting Guide and Seasoned Hunter
Born and bred in the south island of New Zealand, being brought up with hunting since a child, chasing all species of deer on all of New Zealand's islands. His father was a Helicopter Pro Shooter for most of his working life and has given Tom a passion and desire for hunting since he can remember. Since shooting his first Red deer at 10 years old under the guidance of his father, he has been hooked.
Hunting every spare minute he had as teenagers, skipping school to go chase Stags he knew where roaring in the back country. After completing high school, Tom successfully completed a Professional hunting and pest control course at poly-tech passing top of the class, getting A+ right across the board. He moved onto Pest Control as a career for several years, controlling the local possum population and other pests in the roughest and toughest country New Zealand has to offer.
After doing his bit for pest control, Tom decided to move onto bigger and better things and chase his dream of becoming a Professional Hunting guide.
I hope you all enjoy the amazing adventures of Hunting with Dave and the rest of the AHA Crew as we Travel around Australia and the World.
Ryan Perry: Seasoned Hunter and Fisherman
After getting his firearms license once he turned  18, Ryan spent many weekends tagging along on hunting trips with a couple of work mates, cutting his teeth with my .22 riffle on rabbits and foxes. Like most people this started Ryan's passion for hunting and  after a few years of chasing small game a opportunity came up he couldn't turn down. Ryan had an opportunity to take up a new job which by chance allowed him to travel all over Australia. With a boss that was an ex professional roo shooter every trip, hunting became a regular feature whilst working interstate. Ryan gained the chance and access to hunt everything from deer, pigs, goats to even camel. In recent years he has had the chance to hunt with great mates down on Flinders island for Cape Barren Geese to Deer in the Victorian high country and even Water Buffalo in the far reaches of Arnhem land.
Ryan has had a massive obsession with fishing all his life, he has travelled to many parts of the world chasing everything from your bread and butter fish to marlin. Ryan has spent many hours on the Victorian south coast chasing mako sharks and the great southern blue fin tuna. Over the summer months you will find Ryan spending many hours fishing for snapper on Port Phillip bay where he can pass on my knowledge to my two boys.
Sam Jones: Seasoned Hunter and Fisherman
Sam Jones is a farther of 3, he grew up in the foothills of the Dandenong ranges spending most of his youth exploring the bush and fishing the local streams and rivers. His hunting career didn't start until his adult years were he started on ducks and other small game but quickly got hooked by the majestic sambar deer. Sam now  lives and breathes deer hunting and hunts all species of deer, he  has traveled to some amazing destinations and has been lucky enough to have taken some great trophies over the years both here in Australia and abroad.
He is now starting to pass on his love of hunting and fishing  to his 3 children, were most of their spare time you will find them out in the bush with either  rifle, rod  or bow soaking up the sights and smells of the Australian bush.
His favorite saying is "life should be an adventure so make it one"
Martin Van Der Lyn: Seasoned Hunter, Fisherman and Hound Hunter
Marty has had a passion for outdoor adventures ever since I can remember. His parents had him involved in their adventures from when he was only a few months of age, taking him camping, four wheel driving, boating and as time went on taught him how to fish.
His father and his friends introduced Marty to the safe use of firearms. They organised for Marty to attend a SSAA safety course took him target shooting with rifles and clay target shooting with shotguns, teaching him the benefits in are for harvesting a feed, sporting activities and how to control vermin.
Marty started his hunting lifestyle with a .177 air rifle, taking small vermin. He then progressed to hunting rabbits, ducks and foxes with a side by side Bentley shotgun. Throughout this time he would actively trap rabbits and foxes and on occasion whilst ferreting with friends.
At 14 Marty was taught how to dive using a hookah unit by one of his dads friends and this eventually lead gaining his scuba ticket for diving on tanks. He really enjoyed this a lot and still does it today, whether it be to gather a feed of scallops, abalone or crayfish, or the recovery of items from deep waters.
Around the age of 19 god friends introduced Marty to stalking the illusive Sambar deer with a rifle.  It didn't take long for Marty to figure that this majestic creature was a fair bit smarter than a rabbit! Shortly after this time, Marty was introduced to hunting Sambar Deer with the aid of scent trailing hounds, where his passion still lies today. I hope you enjoy Series One of AHA TV.